Educator Programs and Parent-Family Programs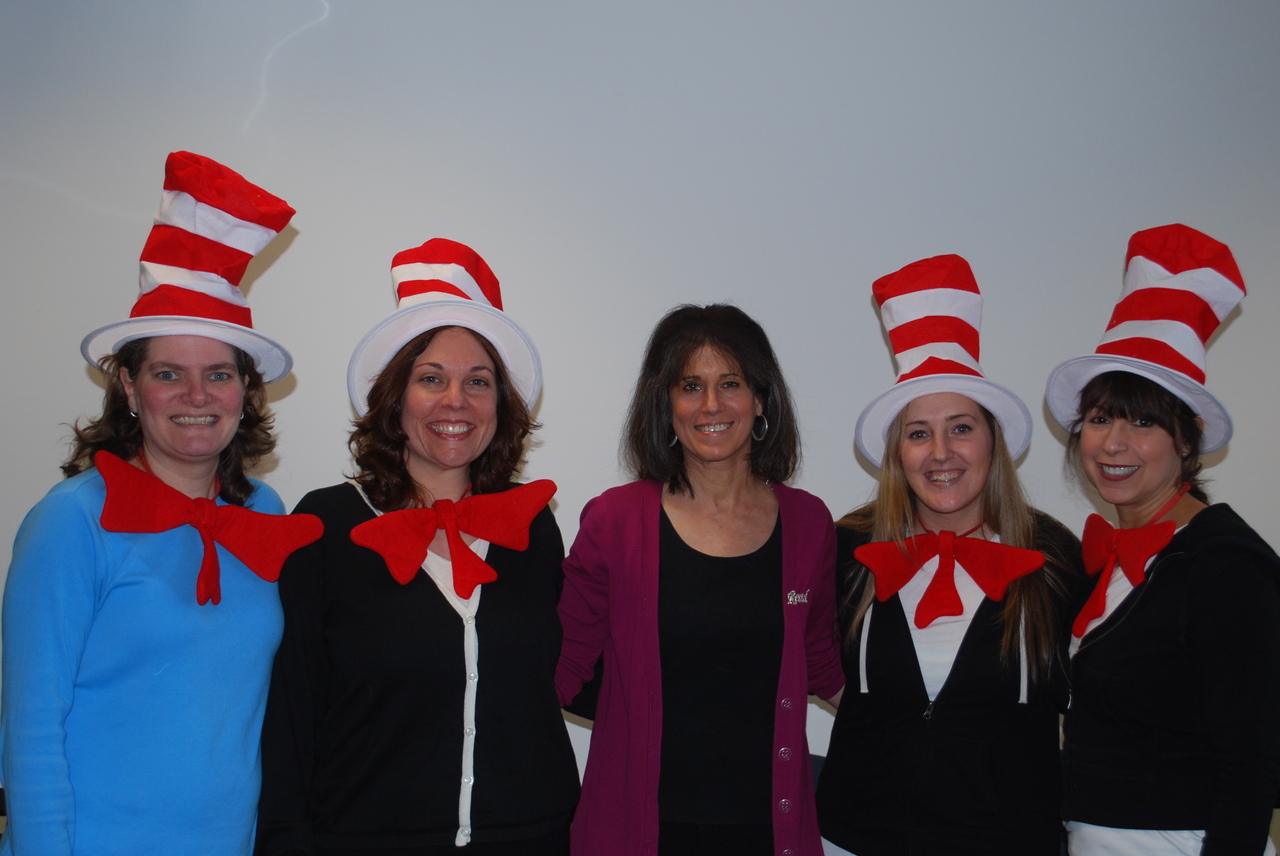 Celebrating with Teachers for Read Across America Week
 Childhood Literacy Presentations for Educators and Parents/Families  
I have presented my childhood literacy programs to educators, administrators, and parents/families at elementary schools and preschools, as well as numerous educational conferences including the New Jersey Association of School Libarians conferences, the Association for the Education of Young Children conferences, PTA/PTO Leadership conferences, the New York Young Child Expo, and at other state and national conferences and meetings. I present both in-person and virtually.

"Thank you so much for providing such useful literacy information for our families! They very much enjoyed the presentation and it was wonderful to see them learn new ways to have fun reading and writing with their children. We know it was beneficial to everyone who came."
Amy Rudnick
Reading Interventionist
Lindenau Elementary School, Edison, NJ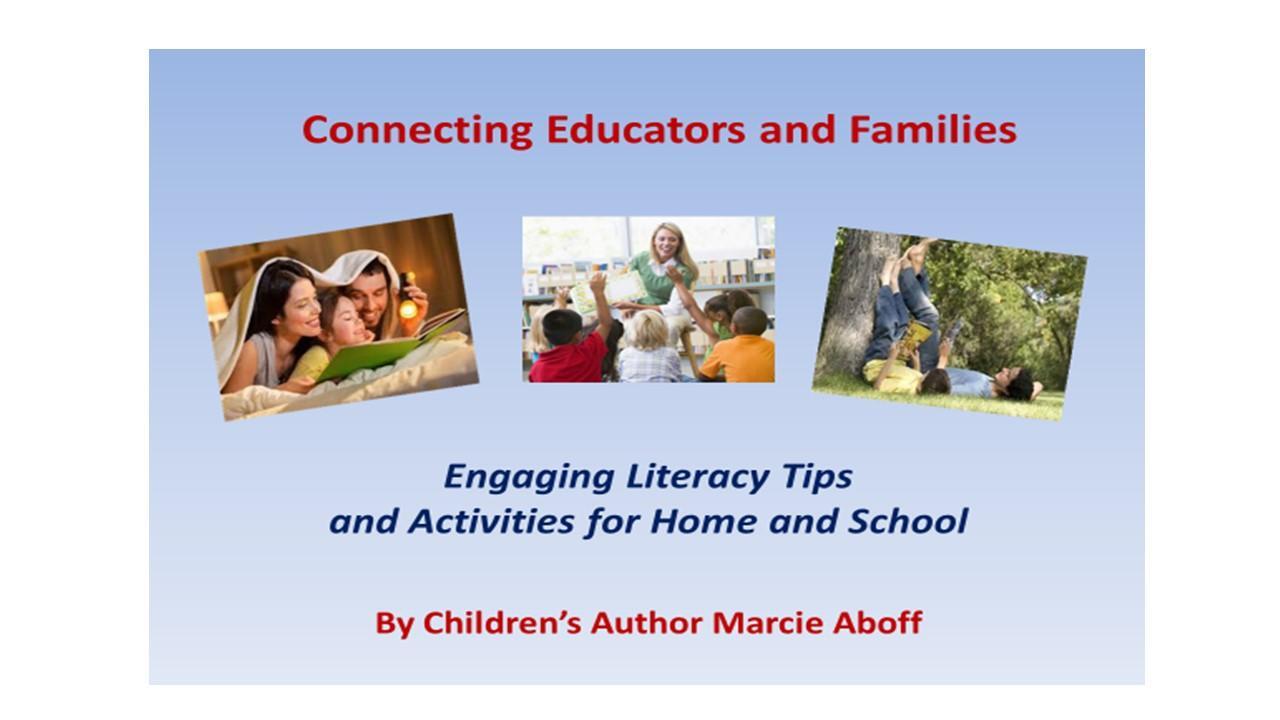 CONNECTING EDUCATORS AND FAMILIES
Inspiring Literacy Tips and Activities
Developing children's literacy skills is a team effort between educators and families. This interactive program can be presented to educators to share with families, or directly to parents/families. I'll share easy tips and activities that are easily integrated throughout a family's busy day, and several activities can also be used in the classroom or at family literacy nights. The busiest of families, as well as ELL families, will discover fun, child-friendly proven ways to boost literacy development at home, which in turn will impact and improve children's literacy skills at school.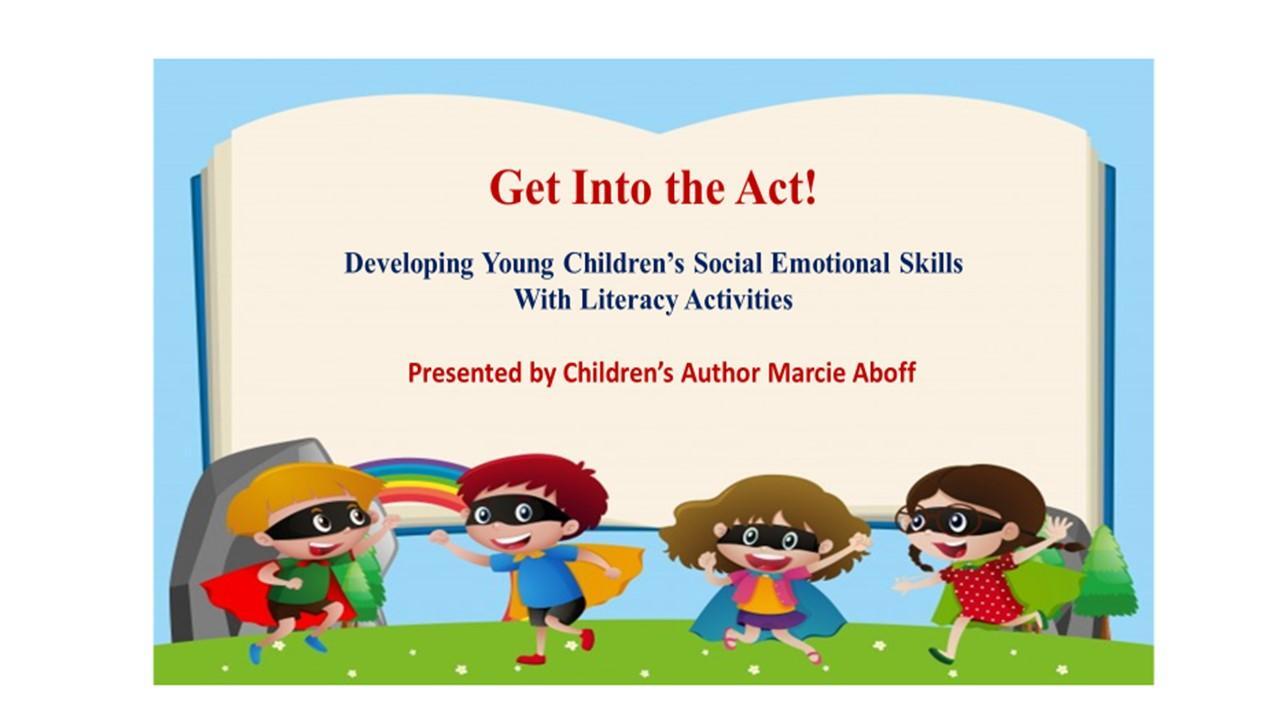 GET INTO THE ACT
Interactive Literacy Play
This lively presentation encourages pre-reading and reading activities while focusing on social emotional development. I'll share the programs I present based on my books, but the activities can also be used with many other books you might already have in your classroom or home. My 'feelings' series books feature amusing puppets and animated exercises in which the children learn (and contribute) productive ways to express anger, sadness, and fear, while developing empathy for other children's feelings. In another book for beginning readers, activities include rhyming words and guessing games. All the children join in the fun with a bear story featuring repeated phrases, in-place movement, and bear puppets.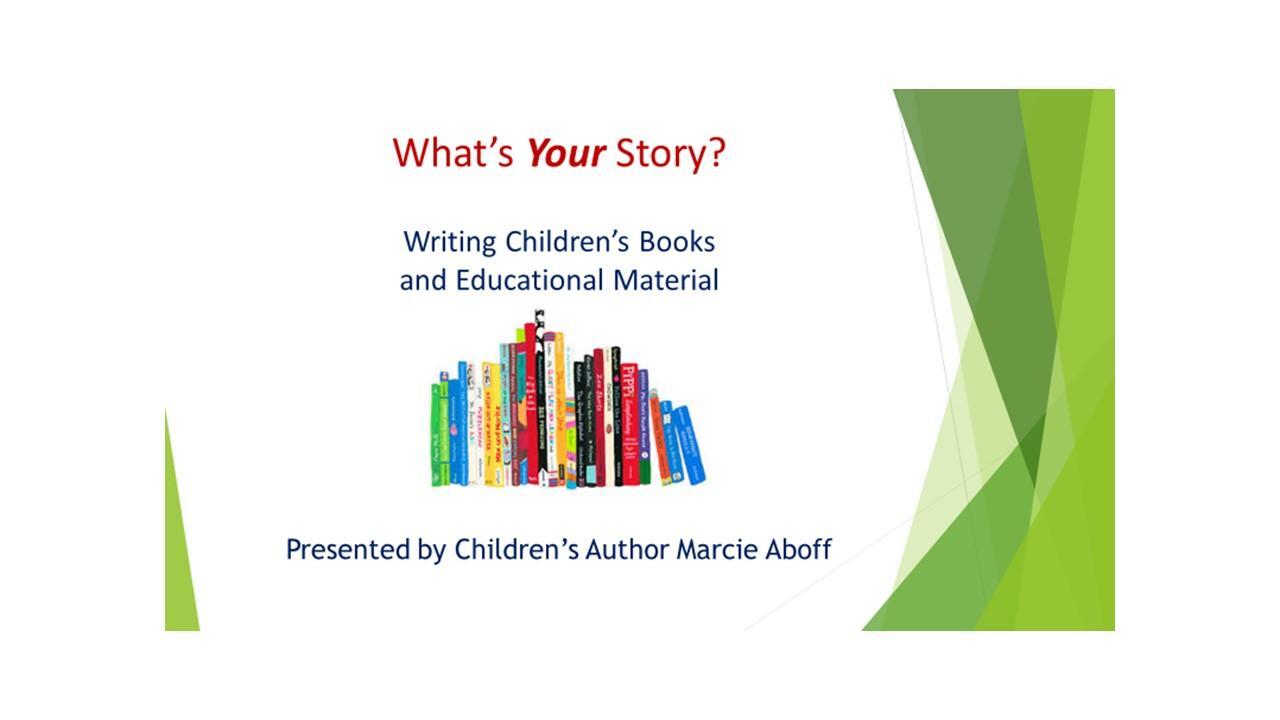 WHAT'S YOUR STORY?
Creating and Writing Children's Books
Teachers are in an ideal position to write children's books. I'll show educators, and others interesting in children's publishing, the process of creating books. Workshop will cover idea conceptualization, manuscript drafts, editorial feedback, revisions, and final projects. I'll share information about the publishing market - how to research publishers and editors, submitting proposals, and brainstorming to see what books and supplemental material could enhance the learning for your students/children.
Especially For Families

 YOUR Child Can be an Author and Illustrator!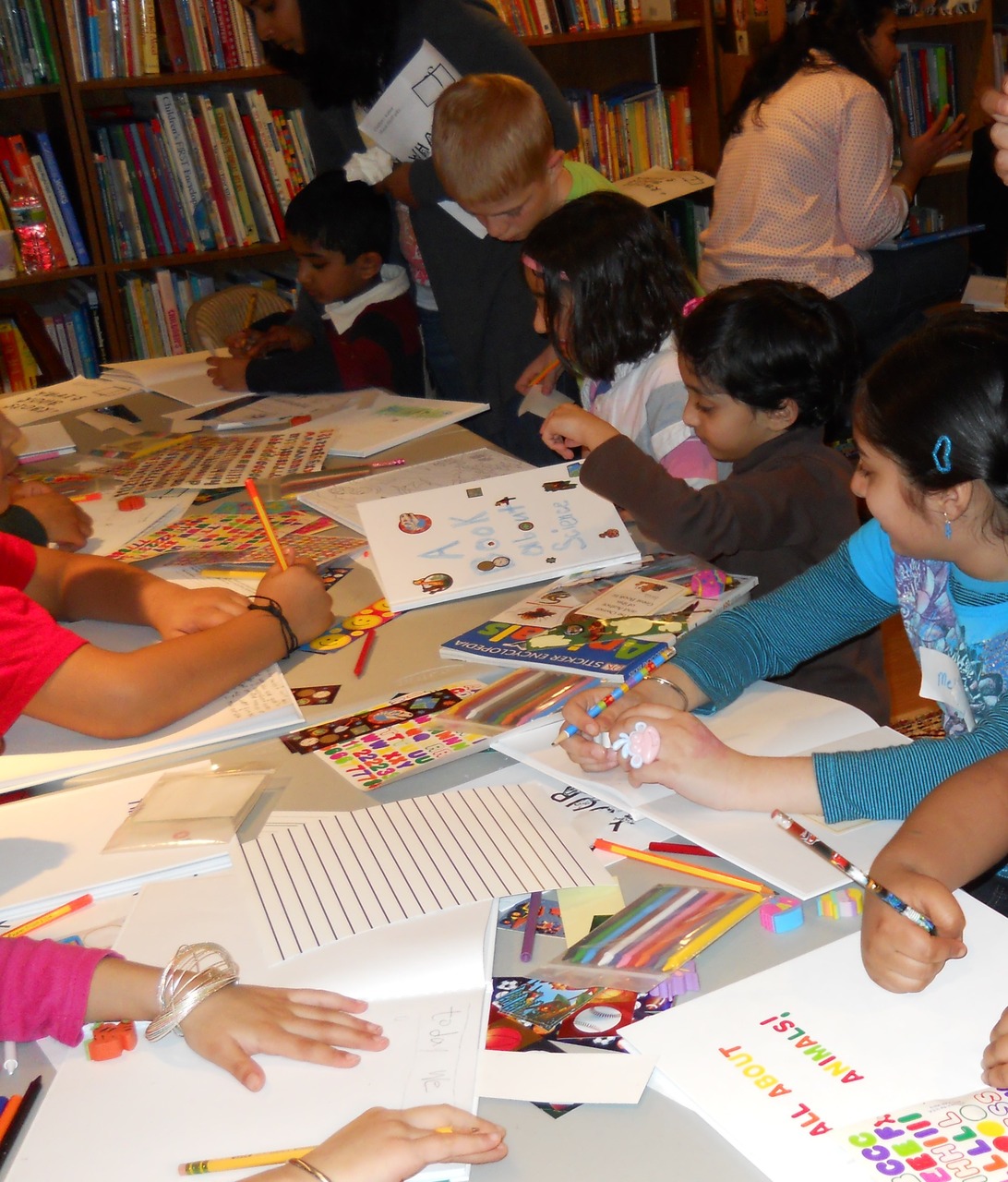 Join in the Creativity with my 'You're the Author'
Children's Events and Birthday Parties!
My 'You're the Author' gatherings are a great way to encourage a love of books, writing, and drawing in a fun and relaxing atmosphere. All children will receive a 28-page hardcover blank book (14 sheets) with a choice of a blank or illustrated cover ex., sports, unicorns, dinosaurs, plus many others (see some samples on the left.) Colored pencils or crayons, stickers, and other supplies will get their creative juices jumping off the page!


*********************************************************

CHILDREN'S EVENTS

Perfect for scouting organizations, boys/girls clubs, fundraising, youth groups, anywhere children gather.

To start off, I'll tell the group a little about me and show them some of the books I've written. Depending on the ages, I'll read one of my picture books for the younger children or a few chapters of one of my chapter books for the older children. I'll talk about how I get ideas for my books, both fiction and nonfiction.

Then each child will receive my 'What's Your Story? writing packet. We'll talk about ideas for stories the children would want to write. There is a lot of interaction and story-telling even before we start writing. The children will learn a lot about each other - and themselves!

After some idea-generating activities, we'll talk about the nuts and bolts of story writing. This includes the beginning, middle, 'turning point', and end of stories, as well as ways to bring their stories' to life' using description, dialogue, etc. All of this is done in a fun and encouraging atmosphere.

The writing packet also includes websites, book suggestions, and other information for those children who want to know more about writing and how to get their own stories or artwork published.

After we brainstorm ideas and learn the story writing process, the children start writing and illustrating their own books. I'm always happy to answer questions and offer plenty of support to all the young authors and illustrators.


**********************************************************


BIRTHDAY PARTIES

Birthday parties are geared for children ages 5 - 9. Your child will choose one of my books, or any other book he likes, and we will base the theme and activities of the party around it.

For instance, does your child like sports? Maybe he'd get a kick out of a basketball party based on my book 'The Hot Shots'. Does your child like playing guessing and rhyming games? She'd be the star with 'The Giant Jelly Bean Jar'. If your child likes animals, an animal-themed party featuring my book 'Raising Pilot' could make him dog-gone happy! (The host child will keep whatever book he chooses.)

To start the party, I'll read the book your child selects - the whole book for picture books or a few pages for chapter books. Then the fun activities begin! Depending on the book's theme and the childrens ages, activities might include a basketball shoot-out, mystery riddle games with clues, or picking an animal's name out of a hat and 'acting' as the animal for the other children to guess! There are many more activities to choose from. Each party will include 2-3 activities.

Each child will then receive my What's Your Story? writing packet. We'll go over ideas for stories they want to write based on their individual interests, hobbies, etc. I'll also briefly discuss the different parts of a story and the story writing process.

Then the book-making begins! Children will write and illustrate their own books. I'll answer any questions and guide them in creating a memorable and personal keepsake book.

Most of my books can be incorporated into a party theme. If you see a book you're interested in, or need some suggestions, just let me know and we can brainstorm a special and unique 'You're the Author' party based on your child's interests.

Please contact me for fees and any questions you might have. I'd love to plan a fun and memorable children's event or birthday party to foster your child's love of books and creativity!

Children's Events and Birthday Parties are limited to local New Jersey areas.